The 7 Best Rooftop bars in Barcelona
Fancy teaming your tipple with some jaw-dropping vistas? These are the best rooftop bars in Barcelona for sunset sipping.
Of all the travel experiences waiting out there in the big wide world, 'sipping cocktails on a rooftop bar in Barcelona as the sun sets in the distance' has to be right up near the top. The very thought of it is enough to draw wistful sighs and excessive daydreaming. Europe doesn't get much more romantic than this.
Only a stone's throw away from Barcelona's busiest square, Plaça Catalunya, this urban garden is the perfect place to kick back and relax on a temperature-friendly night. Sip a sweet cocktail while enjoying the tropical paradise around you, and as if that wasn't enough, during The Pulitzer's famous concerts and DJ sets throughout the week, dance the evening away for no extra charge.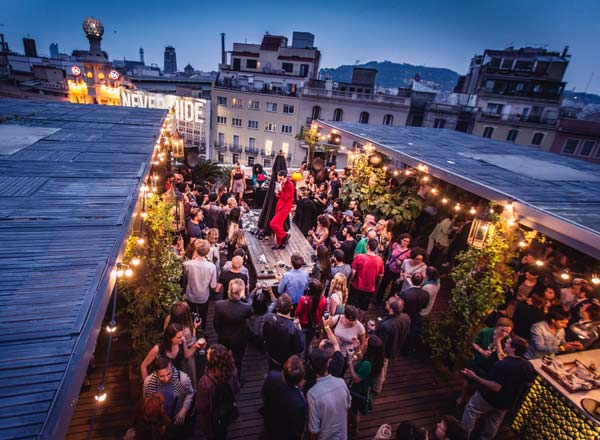 Whereas the view from this terrace may not be outstanding, the kitchen's crunchy chicken definitely is, so make sure you don't miss out on the culinary delights of the Catalan and Spanish cuisine while delighting in this green oasis in the centre of Barcelona.
Public access: May-Oct, 5pm-11pm, Weekends 1pm-11pm
Prices from: Beer €4.50, glass of wine €5, cocktail €12
This spot is great in more ways than one. From its reasonable prices (by rooftop bar standards) to its panoramic views of the city, plus live music every Wednesday from 7pm to 9pm. But its vibe is what sets it apart. When the place fills up in the evenings or at the weekend, there's a certain zen to the city skyline in the backdrop, an Aperol Spritz in hand, arm at a constant 45-degree angle, and the melody of the DJ's track wafting overhead. If the sun starts to get at you, you can cool off by dipping your feet in the pool. Stay a bit longer and catch an unbeatable sunset view.
Public access: Daily 4pm-1am
Prices from: Beer €4, glass of wine €4.50, cocktail €10-€16
There is something absolutely majestic about Antoni Gaudí's final masterpiece that leave its visitors in awe, and this hidden gem has the best views of the city's most emblematic landmark. Situated directly in front of the Sagrada Família, the terrace offers visitors a spot front and centre to sit and relax while enjoying something off the drink or food menus. Their food options include bar snacks, sandwiches, tapas, and desserts. Prices are relatively reasonable, and you'll find plenty of places to take it easy, with deck chairs, loungers and sofas galore. So settle in and take in your surroundings in all their splendour.
Public access: Summer: 10am-midnight (rooftop bar open 6pm-10pm). Booking ahead of time is mandatory, access is free but a drink must be ordered
Prices from: Beer €3, glass of wine €4, cocktail €12
If what you're after is a hidden jewel, a place not yet over-explored by heaps of tourists, Villa Emilia's La Terraza could be the perfect place for you. Just a short walk from Plaça Espanya, this cosy and tastefully furnished rooftop terrace is a prime example of Barcelona's Mediterranean and laid-back side. The view from La Terraza is not as magnificient as from other rooftops, but the place itself makes up for it with its intimate atmosphere, and prides itself on its live music sessions on Thursdays and Saturdays (7.30pm-9.30pm), when they also put on their popular barbecue nights (8pm-11pm; pre-booking for these events is essential). On regular days, they offer a small but fine selection of tapas, along with refreshing cocktails.
Public access: Daily 10am-1am
Prices from: Beer €5, cocktail €11
The B-Pool Bar at the top of the B-Hotel is the place to see and be seen. Not only does the spacious rooftop terrace provide a good view of Plaça Espanya, but you've got to agree that dining next to the too-blue-to-be-true pool and under the envious gazes from the tourists on the Arenas shopping centre's viewing platform just opposite B-Pool Bar has its own draw. And we don't blame you. Compared to other rooftop bars, the prices for scrummy tapas and cool drinks are relatively affordable, so you can fully enjoy your evening on this elegant terrace without clear conscience… even if you can't resist ordering Ben & Jerry's for dessert.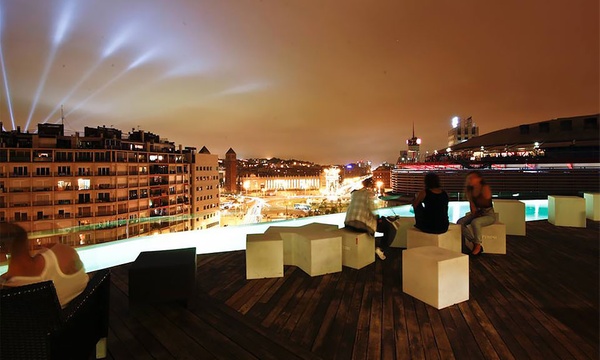 Public access: Daily 8pm-1am
Prices from: Beer €4.50, glass of wine €4, cocktail €10
Much like the name implies, this is exactly where you want to be to grab a drink and chill out under the sun with a stunning view of the city. Whether it's with a 'canya' (draught beer) next to the pool or a glass of wine at sunset, this terrace offers an escape from running around the city (despite being located in the dead centre) with its laid-back and relaxed vibes. Hungry? Ohla hotel also has a number of restaurants on-site, like the Michelin-starred Caelis, and La Plassohla, where traditional Catalan cooking meets luxury dining. This spot is a definite must during the warm, sunny days if you're looking for some down time and serenity atop a luxury hotel. The prices are a bit steep, but the experience is well worth it.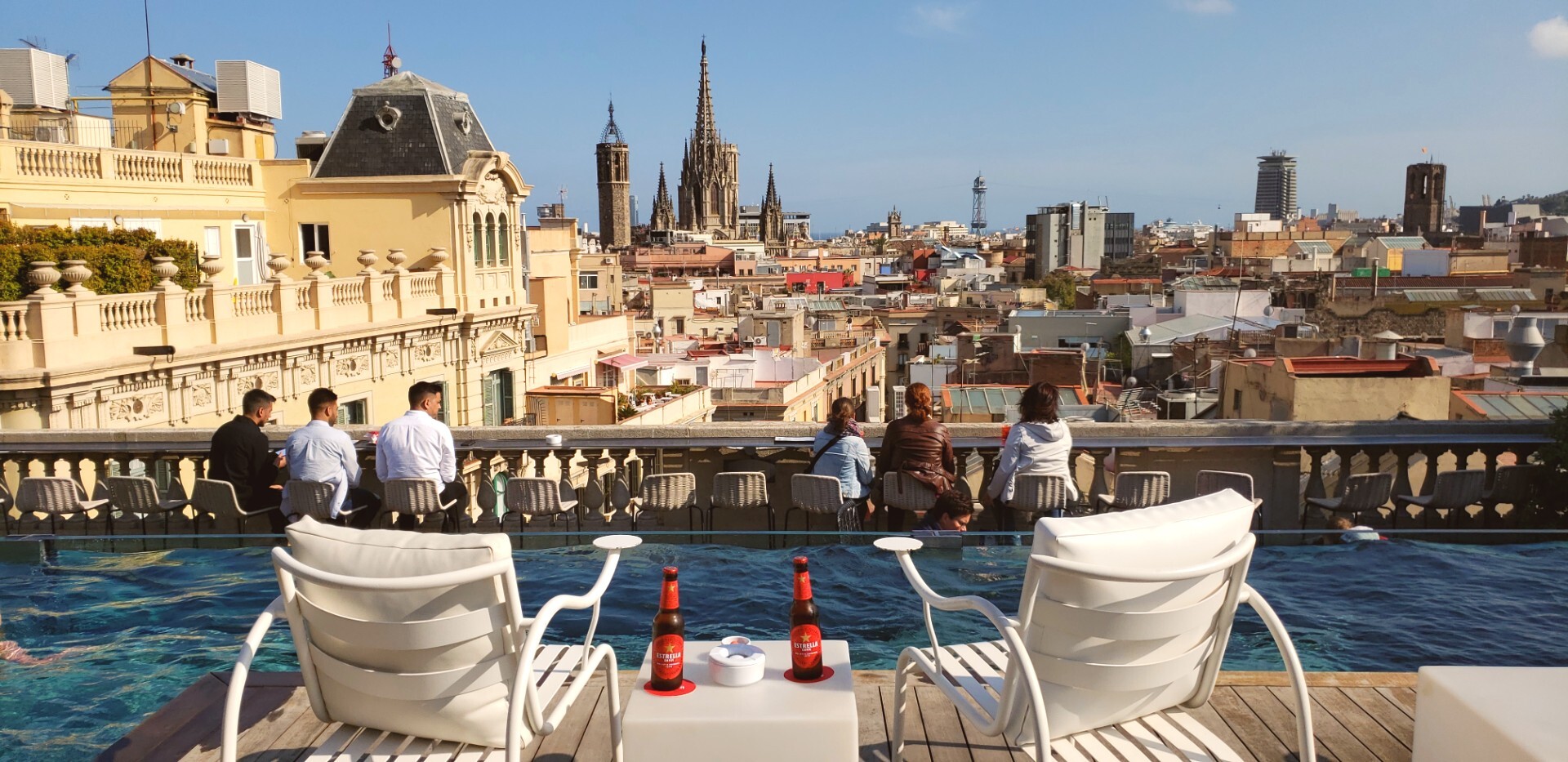 Hotel guest access: Daily 12pm-midnight
Public access: Daily 2pm-8pm, weekends until midnight
Prices from: Beer €6, glass of wine €7, cocktail €16
Many of Barcelona's rooftops offer a rather restricted view of the city's major sights. The terrace at the top of the Grand Hotel Central is a sure way to avoid disappointment: with its seemingly endless pool (for guests only) and impressive views of almost the whole city, it's no surprise that this terrace doesn't stay empty for long. The limited public access adds to the popularity of the venue. They do take reservations, and it's well worth booking ahead especially as prices here are relatively cheap… in rooftop terms. If you book in advance for dinner, you don't have to pay a cover charge.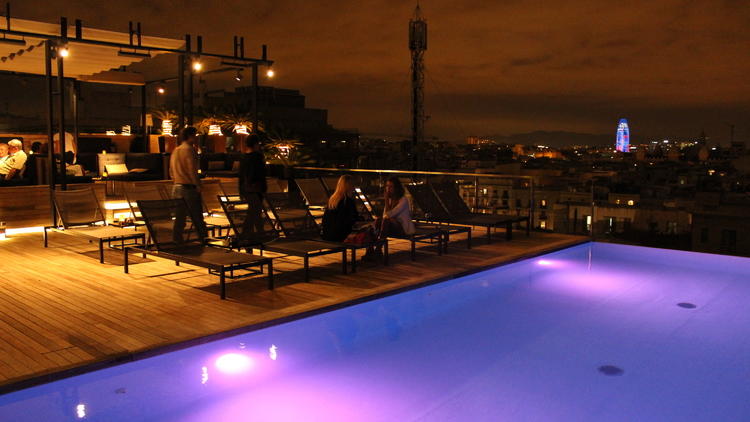 Public access: Mar-Oct, guest access 10am-1am, public access Friday and Saturday 1pm-7pm.
Prices from: Beer €7, glass of wine €7, cocktail €16.